O the once great Lookout, how quarreled and rambunctious you once were; for now the wiki rests here, an unequivocal blur.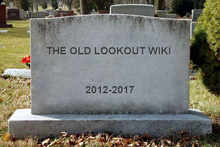 This is the official archive wiki for the Lookout wiki, formerly Supreme Dragon Ball Wiki. It contains all the pages from its Lookout I and II role-play universes as they were deleted from the main wiki for a fresh start in its new direction. Please do not tamper with any of the pages. (8/1/2017)
Ad blocker interference detected!
Wikia is a free-to-use site that makes money from advertising. We have a modified experience for viewers using ad blockers

Wikia is not accessible if you've made further modifications. Remove the custom ad blocker rule(s) and the page will load as expected.