This article, Menos, is a Role-Play article.
This article, Menos, is property of Powerful gohan.
Menos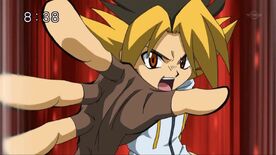 Name
Profile
Professional Status
Personal Status
Theme
[

v

 · 

t

 · 

e

]
Menos is the reincarnation of , he is very different from Bandra and is very quiet. 
About
He is 12 years old, he currently resides at several deserts, Menos' goal is to become the strongest fighter, he is somewhat half evil half pure, and his race is unknown.
Appearance
Menos is a tanned skinned boy that has average height. Menos has eyes the shade of amber with blond and brown hair that spikes above his head and drapes behind it. He wears a white sleeveless jacket and red/blue pants, he also sports fingerless gloves.
Personality
Menos is quite silent, he goes all serious during battle, but he also talks much, but not very often. He chooses to be lazy rather than fight all the time.
Transformations
Super Menos
Crash Menos
Phantom Menos
Ultimate Menos
Power Levels
Base: 179,000,000
Super Menos: 190,000,000
Crash Menos: 211,000,000
Phantom Menos: 306,700,000
Ultimate Menos: 10,000,000,947,047
Techniques
Flight
Ki Blasts
Maximum Blaster
Wild Rush Blaster
Death Beam
Golden Crusher
Bicycle Bash
Fist of the Desert
Sandhound
Reflection Technique
Sheer Peak
Death Ball
Supernova
Death Ball
100% Death Ball
Power Hungry Strike
Item(s)
Desert Staff (Found in the desert.)
Sphinx Staff (Also found in the desert.)
Gallery
Ad blocker interference detected!
Wikia is a free-to-use site that makes money from advertising. We have a modified experience for viewers using ad blockers

Wikia is not accessible if you've made further modifications. Remove the custom ad blocker rule(s) and the page will load as expected.